The IPO for the new Satrix Momentum ETF opens on Wednesday, 24 October 2018.
THE IPO IS NOW CLOSED ON OUR PLATFORMS - THE ETF WILL BE AVAILABLE TO INVESTORS WHEN IT LISTS ON THE JSE ON 16 NOVEMBER 2018.
This is Satrix's fifteenth ETF listing and the fourth in our smart beta range. The Momentum ETF tracks the proprietary Satrix Momentum Index, developed in-house by Satrix's quantitative specialists.
Satrix Momentum joins Satrix Divi Plus, Satrix Rafi 40 and Satrix Quality as part of the Satrix smart beta ETF offering.
Click here for more info on the IPO
THE SATRIX MOMENTUM ETF
The Satrix Momentum ETF aims to replicate the performance of the proprietary Satrix Momentum Index by physically holding all the index shares in the underlying portfolio. The ETF will make quarterly distributions in March, June, September and December. The Total Expense Ratio (TER) will be targeted at 0.40% p.a. (incl VAT) and will be calculated after 1 year. The anticipated listing date on the JSE is Friday 16 November 2018 (code STXMMT).
MORE ABOUT THE SATRIX MOMENTUM INDEX
Factors are a stock's measurable characteristics that may in some way explain future performance. A factor (or smart beta) index is a rules-based construction of stocks that all exhibit particular attributes. Momentum is one such factor. In basic terms momentum can be defined as a trend, meaning stocks that are performing well are expected to continue to perform well (ie the share price is going up), while those that are not performing well are expected to show further declines in their share price.
To capture the momentum investment style and its effect, Satrix has developed the proprietary Satrix Momentum Index. The index aims to capture the return of the equity market enhanced by the momentum risk premium. To do this, we construct a portfolio tilted towards equities which display positive momentum characteristics and away from equities showing negative momentum characteristics. The index is rebalanced 8 times a year.
Jason Swartz, Head of Portfolio Solutions at Satrix notes, "While the alpha embedded within a momentum strategy is powerful, both the risk management and implementation of the strategy is crucial when harnessing this alpha. Momentum strategies can be vulnerable at turning points and generate large volatility, and thus tempering the portfolio with sound risk overlays is critical. When it comes to implementation, we focus on ensuring existing alpha is not eroded through excessive turnover and subsequent fund costs, all the while maintaining a fresh and pure momentum signal in the portfolio."
TOP 10 CONSTITUENTS AT 30 SEP 2018
SECTOR BREAKDOWN AT 30 SEP 2018
PERFORMANCE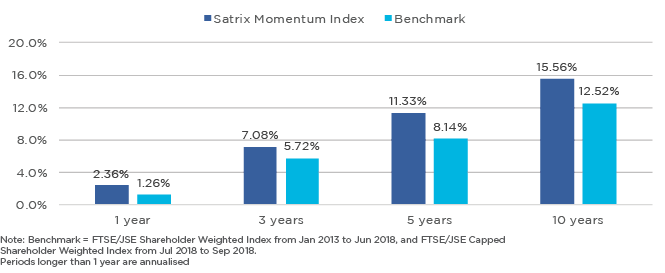 UNDERSTANDING THE ROLE OF MOMENTUM IN YOUR PORTFOLIO
With the popularity of value-based strategies in the South African investment industry, an allocation to a momentum strategy can significantly improve risk-adjusted returns. This is not only due to the negatively correlated nature of momentum with value – thus providing substantial diversification – but also the long-term premium embedded within a momentum investing philosophy.
Typically, when targeting a value strategy (particularly if shaped around a Price-to-Earnings factor), an inadvertent but significant underexposure to momentum is realised. Momentum has proven to be one of the most consistently strong factor signals in South Africa, and as such, being meaningfully underexposed to this factor may compromise the hard work and skill employed to deliver a premium through the targeted value exposure.
The role of momentum is to neutralise the underweight momentum exposure while not substantially diluting the intended value exposure; which ultimately can create a more diversified and complete portfolio.
Our proprietary momentum index builds in unique features, including: 1) utilising both a price and earnings momentum signal, 2) comprehensive risk controls, 3) efficient and consistent momentum exposure.
WHO SHOULD INVEST?
Investors with an aggressive risk profile who are looking for longer-term capital growth from equity exposure.
Investors who understand the potential for increased volatility that comes from investing in an index with a narrower focus viz. companies with momentum characteristics.
CLASSIFICATION AND SHARE CODE
ASISA Category: South Africa - Equity - General
JSE code: STXMMT
HOW TO INVEST
Investors can invest online via SatrixNOW or via the Satrix Investment Plan. Participating in the IPO offers the benefit of zero stock brokerage.
This ETF can also be traded through stockbrokers and other online platforms - investors can request the specific cost profile from the particular provider.
RISK PROFILE: AGGRESSIVE
Investing in equities is high risk. By investing in equities, you increase the probability of higher returns, but you also introduce volatility into your portfolio in the short to medium term. Equity investing should always be viewed as long-term.