Global innovations...
from smart cities, robotics and green energy, to bio engineering and food production
...are unlocking investment opportunities right here. You can access these innovations on the JSE with Satrix global ETFs.
WHY INVEST GLOBALLY?
While South Africa has world-class companies to invest in, there are many industries, economic regimes and currencies you are simply not able to access by keeping all your capital in domestic markets. To add some perspective, South Africa is one of 26 emerging market countries globally and contributes less than 1% to global GDP.
By including investments in international companies in your portfolio, you are diversifying your exposure to include global markets and industries which complement your local holdings.
THE SATRIX GLOBAL ETF RANGE
Satrix global ETFs give you the opportunity to invest in some of the most iconic companies worldwide.
Just to name a few…companies like Apple, Microsoft, Alibaba, Tencent, Amazon and Facebook, which drive forward innovation - have changed the way we LIVE, WORK, TALK, SHOP AND PLAY. Forever.
View Satrix Global ETF brochure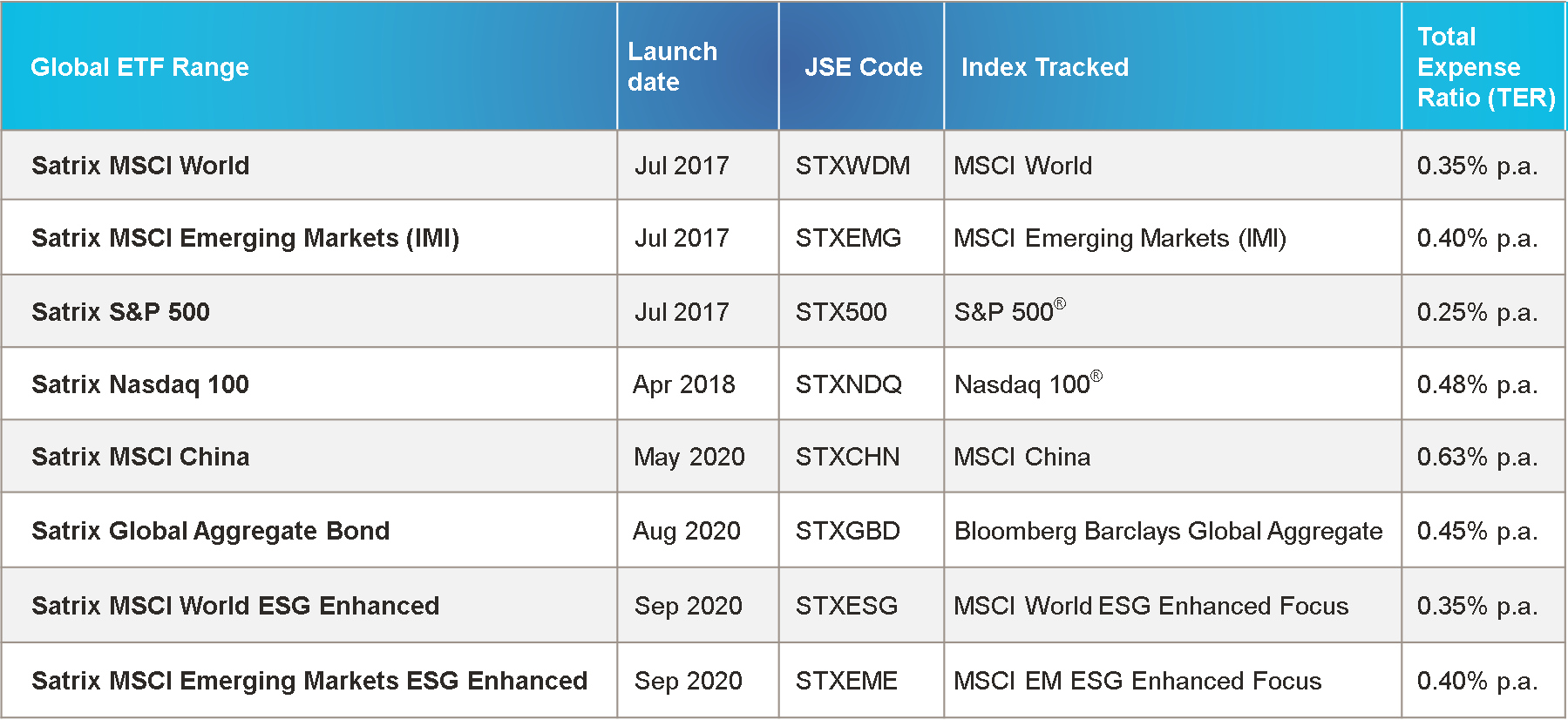 WHY SHOULD YOU INVEST?
Apart from wanting to diversify your capital by participating in the global economy, you are also wanting a hedge against rand depreciation.
Our global ETFs are listed on the JSE. This means you invest in rands, but gain global exposure and a hedge against rand depreciation. You are not subject to any exchange control processes.
HOW TO INVEST
Individual investors can access Satrix ETFs online at SatrixNOW.co.za. SatrixNOW offers easy access and has no minimums, which means you can invest any amount you choose!
All Satrix ETFs are available in your Tax Free Savings Account.
Financial Advisers can now access Satrix Global ETFs via the Glacier LISP platform.
POSTED : 27 SEPTEMBER 2020