SATRIX WINS 10 AWARDS AT SALTA
The fourth annual South African Tracker Funds Awards (SALTA) was held as a virtual event on 24 March 2021. Satrix received 10 awards in total across all categories, including the People's Choice Award for the favourite ETF. This is just two weeks after Satrix was named Morningstar's 2021 Best Fund House in the larger fund range.
SALTAs cover four main categories: Total Return Performance, Trading Efficiency, Tracking Efficiency and Capital Raising.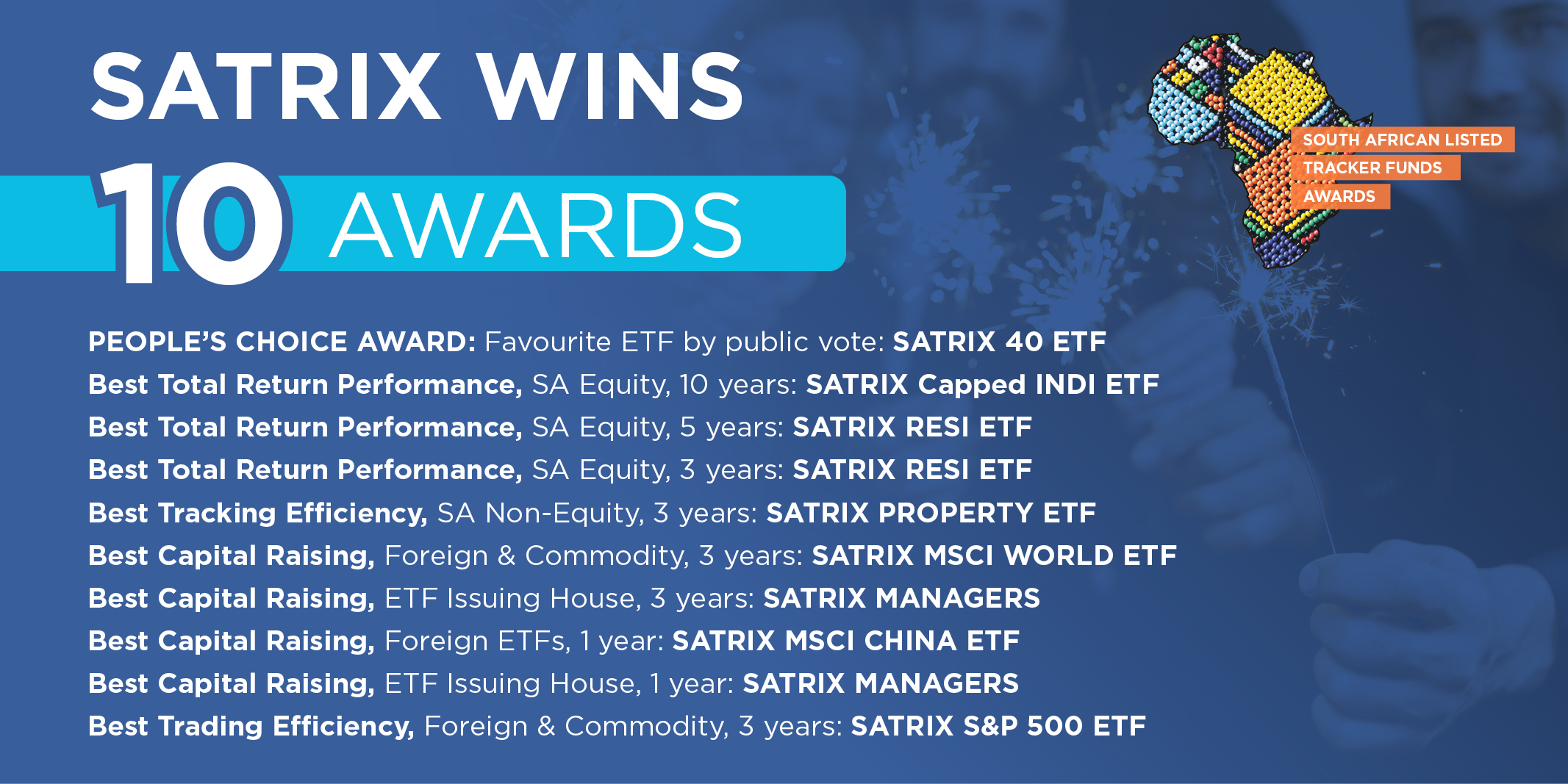 SATRIX 40 - THE FAVOURITE ONCE AGAIN
The coveted "People's Choice" award was decided by the public who voted via online poll. The Satrix 40 ETF proved to still be the favourite ETF among South African investors for the fourth year running. Satrix listed the very first ETF on the JSE in November 2000. The Satrix 40 ETF has been a flagship Satrix fund ever since, offering investors local equity exposure at a low cost.
Helena Conradie, CEO of Satrix, says, "As an investment business, our core driver is access for all South Africans no matter the size of their portfolios or the level of their understanding of investments. Enabling financial inclusion is the part Satrix can play in building our country. Winning the People's Choice is a real honour because we know that those who voted for us are on their own journey towards investment success and building financial confidence for the future. Satrix is helping them get there."
Mike Brown, director at etfSA commented " Our analysis of the People's Choice voting pattern indicates that Satrix overwhelmingly remains the public's favourite choice as an ETF brand."
CAPITAL RAISING AWARDS HIGHLIGHT ETF MARKET GROWTH
Another SALTA highlight was winning four awards for capital raising. We consistently look for new ways to open up the world's markets and investment opportunities to South African retail and institutional investors. Receiving four awards for inflows in such a challenging time means our offering is resonating and attracting capital. The Satrix MSCI China ETF did particularly well in 2020, with a successful IPO and investments of R1 billion within a few months.
ABOUT SALTA
Refinitiv, Profile Data, JSE and etfSA.co.za are the four independent service providers to the South African Exchange Traded Fund (ETF) industry who have coordinated these annual awards to recognize ETF issuers in various categories.
SALTA 2021 presented 23 awards in total:
Satrix Managers – 10 awards
Absa Capital (NewFunds) – 5 awards
1nvest – 4 awards
Sygnia Itrix – 2 awards
Ashburton Investments – 1 award
CoreShares – 1 award
Nerina Visser, ETF strategist and director at etfSA adds "The extent to which Satrix dominated the 2021 SALTA Awards is testimony to a business that focuses on all aspects of what constitutes excellence in index-tracking investment solutions, and does so consistently. They have delivered value to investors far beyond "just" investment returns, so it is no surprise that they are once again "The People's Choice".