Your view of money may well have been shaped when you were little - could this view now be a barrier to improving your finances?
Have YOU made friends with money yet?
"Good guys like me don't get rich."
"Life is short, so spend your cash while you can."
"There will never be enough money for what I want."
We all have a script running in our minds on the money topic and whether we're destined for wealth or not. Often it's similar to the voice of one or both of our parents. And the gist of what they believed about money when we were small shapes our belief system as adults. Some scripts are very positive for wealth creation, for example "Wealth is completely within my reach" and "Some for now, some for later does it."
But other money scripts program our subconscious to not pay enough attention to money, or to, in fact, repel it. "Money is the root of all evil." "It's not polite to talk about money." Would you speak about one of your best friends like that? And that is the heart of setting out on the road to financial security: see money as one of your friends, give it time and attention, get to know its world and appreciate how it empowers you.
Subconscious beliefs are important. They run through our minds like a movie script and drive our decisions around education, salary negotiations, savings, debt, our net worth and how much financial risk we're willing to take. They play a large role in determining whether we prosper or not.
A few of the Satrix team members share how their money scripts have shaped their personal wealth journey and whether they've had to tweak a few beliefs over the years.
Helena Conradie, CFA
CEO
Helena has been with Satrix since 2000 and has built up a well-known index-tracking business with approximately R60 billion in assets under management. Her team manages the largest equity portfolio of exchange traded funds (ETFs) in South Africa. We asked her a few questions about her relationship with money.
Q: What did your parents teach you about money?
Helena: I grew up in a house where people and experiences were valued more than money. Money was in no way made out to be a bad thing, it was just not the focus of any discussions, arguments or aspirations. We didn't have an active relationship with money. In an unexpected way this has provided very valuable guidance and sanity for me in a world of volatile and artificial values. In that context, the concept of financial freedom makes so much more sense for me on a personal level… It is not about the size of your savings, but the recognition of what is important in your life and how money can enable you to be free to make your own choices.
Q: How do you make sure you can afford your existing lifestyle even in old age?
Helena: I never lose my respect for money and with that comes a sense of responsibility that keeps you mindful and focused on the longer term.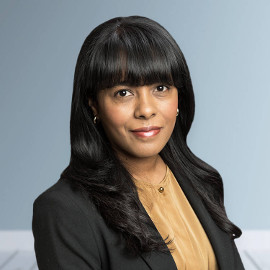 Jenny Albrecht, CFA
Portfolio Manager
Jenny started her career in Client Services and has been a portfolio manager at Satrix since 2004. She has been involved in the management of most of the local and international Satrix products since their inception.
Q: Did you formerly hold any beliefs which prevented you from attracting financial security?
Jenny: My parents demonstrated a fairly conservative money model: buy only what you can pay cash for or wait until you have the cash. Debt was strongly discouraged. While this has helped me to be debt-averse, no distinction was made between good and bad debt. It was only when I entered the investment world that I learnt to take on more risk and understood that certain debt, like a home loan on a property that increases in value over time, is good.
Q: If money was a person, how would you describe your current relationship with it?
Jenny: Let's say I try to keep it uncomplicated. I'm in a rational partnership with money and there is no anxiety as money works with me to achieve my life goals.
Thembeka Khumalo
Client Relationship Manager
Thembeka holds a B.Com (Hons) degree and has been employed in the banking and investments industry since 2008. She joined the Satrix team in 2016.
Q: Did you formerly have a money mindset that you feel held you back?
Thembeka: I grew up with my grandmother who had raised nine children of her own, and could therefore stretch a R10 note as far as possible and was extremely careful about how she spent it. We grew up with a mind-set of scarcity. As an unintended consequence, this taught me to be very frugal and I was constantly worried about not having enough. Being exposed to banking and investments has taught me how to save money and how to create wealth by taking more risk, knowing that there can be potentially great returns.
Q: If money was a person, how would you describe your current relationship with it?
Thembeka: Learning how to nurture the relationship with money and seeing how it works for me has been empowering. Spoiling myself on the odd occasion, yet still understanding the importance of building wealth provides the perfect balance for a healthy relationship with money.
What's YOUR money script? Becoming aware of our money scripts, we begin to understand what drives us, so we can then either accept or reject this inherited belief, or decide when this money script serves us well and when it doesn't. Reaching financial security is one part hard science – living below your means and saving the rest wisely – and one part having the right mindset. So, shine some light on your own money script and get your wealth attitude on!
Credit to: Drs Brad and Ted Klontz, authors of several books on financial behaviour, among others Wired for Wealth: Change the Money Mindsets That Keep You Trapped and Unleash Your Wealth Potential, as the first published authors to coin the phrase "money script"