What exactly does it mean to invest in emerging markets?
WHERE IT ALL STARTED
The term was originally coined as a marketing catchphrase by an economist at the International Finance Corporation in the 1980s. "Emerging markets" have come a long way since that somewhat patronizing phrase, which highlighted the aspirations of small and underdeveloped economies.
Back then, the IMF (International Monetary Fund) ranked all world economies by per capita income, export diversification and degree of integration into the global financial system. The point was to determine which economies would significantly contribute to global growth, and which wouldn't. The top half of countries was called "developed" and the bottom (about 152 countries) was labelled "emerging". This was as haphazard a classification as any, but it did seek to demonstrate that economies could broadly be grouped by defining characteristics. And the most defining characteristic of the emerging markets back then was slow economic growth and a general lack of sophistication.
EMERGING MARKETS TODAY
Emerging markets are no longer regarded as the poor cousin, largely because a lot of the world's economic growth is now coming from these emerging countries and investors are not writing (all of) them off as quickly as they used to. Some very credible companies and investment opportunities are to be found here.
Emerging market countries are diverse. Index providers such as MSCI have created emerging market indices with broad coverage and sufficient liquidity. In turn, index trackers like Satrix can track the emerging market index, making it really easy for investors to access emerging markets.
To give South African investors an opportunity access emerging markets, we launched the Satrix MSCI Emerging Markets ETF. It allows you to invest in emerging markets in rands on the JSE. This also offers a currency hedge, which means that your performance will be positively affected if the rand weakens against the dollar and negatively affected if the rand strengthens.
The Satrix MSCI Emerging Markets ETF tracks the MSCI Emerging Market IMI which covers 24 countries.
The emerging market countries include Brazil, Chile, China, Columbia, Czech Republic, Egypt, Greece, Hungary, India, Indonesia, Korea, Malaysia, Mexico, Peru, Philippines, Poland, Russia, Qatar, South Africa, Taiwan, Thailand, Turkey and the United Arab Emirates.
China currently makes up the largest part, around 30%, while South Africa is just over 6% of the index.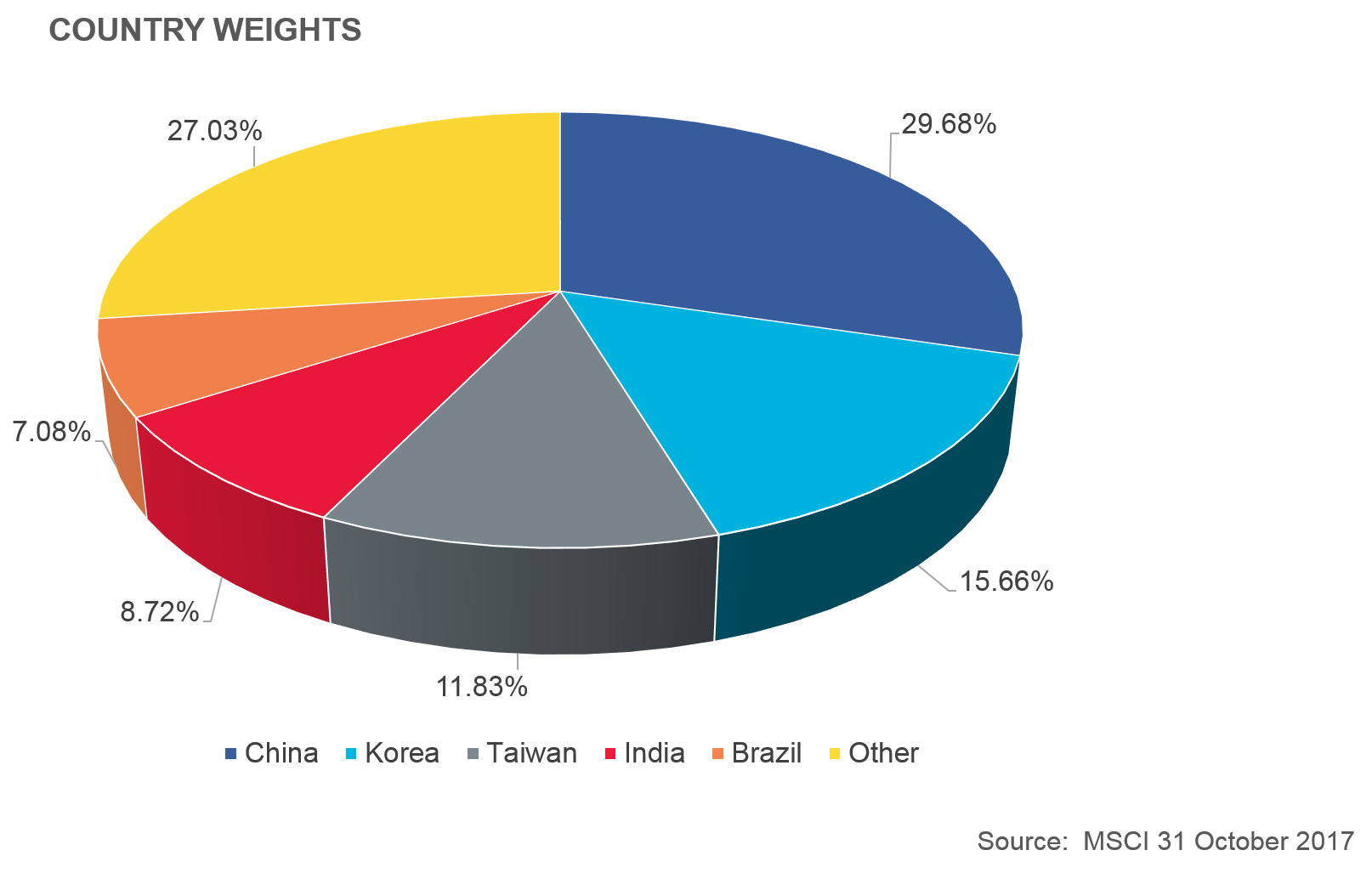 The index also covers a number of global sectors – this means that not only do you get geographical diversification with regards to your indices, but broad sector diversification too. Companies that make up the MSCI Emerging Markets Investable Market Index include top performers like Samsung (South Korea), Naspers (South Africa) and TenCent and Alibaba (both China).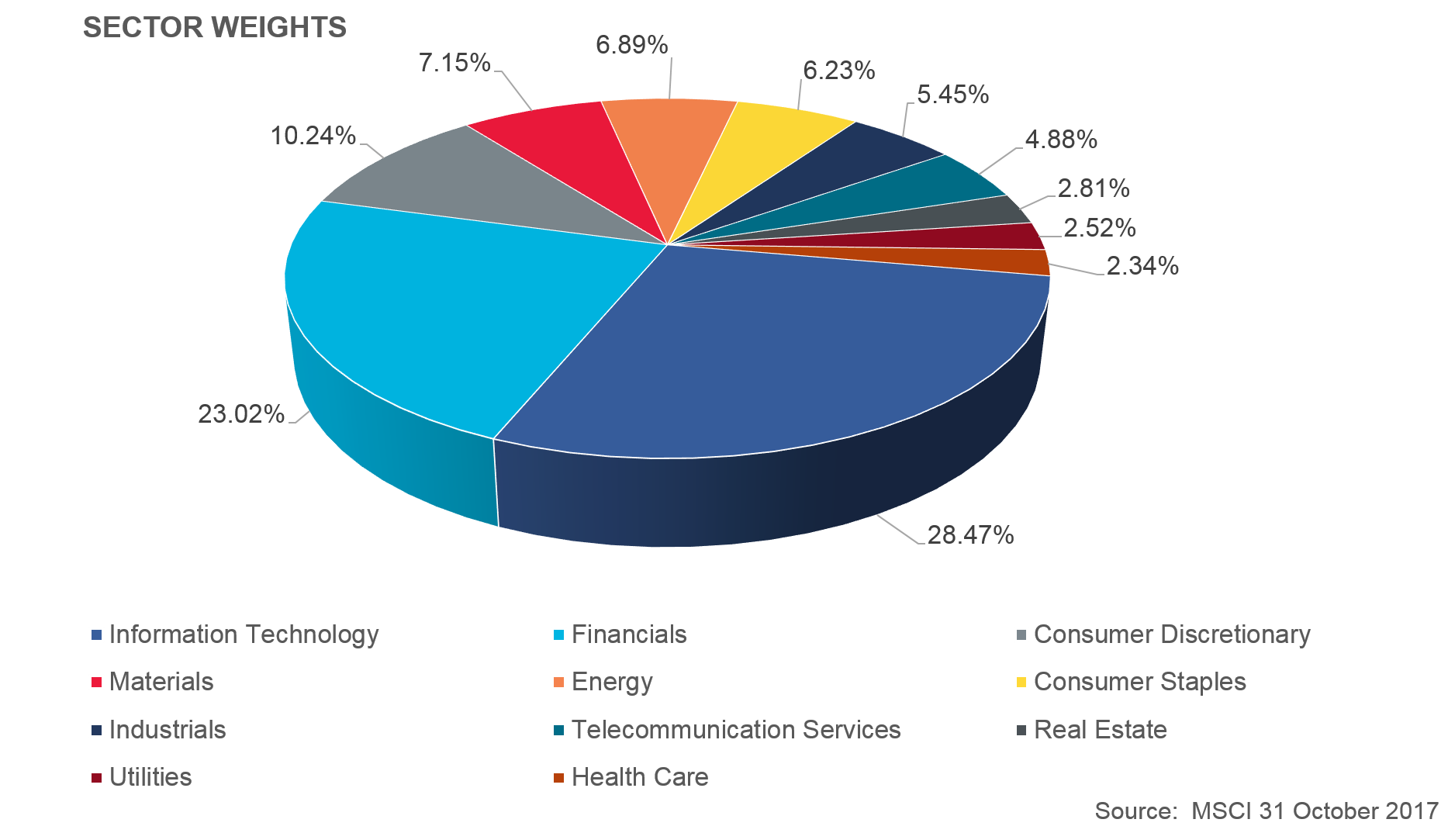 WHY WOULD YOU INVEST IN EMERGING MARKETS?
If you've already made the decision to add offshore exposure in your local South African portfolio – including an allocation to emerging markets broadens your geographical reach.
The economic growth of emerging markets is currently outperforming that of developed markets and is likely to continue as a result of a lower working-age population, lower country debt levels, favourable business environments and inclusive tax regimes.
Many global multinational companies are seeing more and more of their growth coming from emerging markets as young, vibrant populations opt to buy their products. Well-known brands like Samsonite, L'Occitane and Prada are choosing to have their primary listings on the Hong Kong stock exchange rather than New York or elsewhere.
Simple demographics – Asia is home to more than half the world's population and all those people need to work, spend and save. And that isn't even including South America or parts of Africa. This quantum of economic activity will translate into good investable opportunities.
Are you ready to invest in emerging markets? Click here to access