Megatrends are those that shape how we live and spend our money in fundamental ways. One such trend is growing longevity. Human life expectancy has increased by roughly 25 years in the last century. With modern medicine leveraging immense advances in tech, similar gains in longevity look all but certain in the decades to come.
The primary enabler and economic beneficiary of that trend is the global healthcare sector. By extending life, it creates a striking opportunity to maintain it – healthcare spending on a 70-year-old American is 3.5 times higher than for someone half that age (source: Center for Medicare and Medicaid Services).
In other words, aging populations, particularly those in developed countries, spend an increasingly larger portion of their household income on staying healthy. Investors are taking notice.
As a whole, the global healthcare sector attracted $44bn worth of investment in 2021, double the amount raised in the previous year. Innovation in genomics, biopharmaceuticals, artificial intelligence and miniaturisation is spawning breakthrough products and services for which demand is escalating.
The efficiencies of digital healthcare, a sub-sector that BlackRock expects to grow by 30% per annum until 2025, will further increase the size of the addressable healthcare market.
The impact of aging populations will be powerful. Therein lies an equally significant opportunity for investors.
Satrix Healthcare Innovation Feeder ETF
To give our clients access to the theme of demographic maturation, we have launched the Satrix Healthcare Innovation Feeder ETF.
The ETF tracks the STOXX Global Breakthrough Healthcare index which provides broad exposure to companies at the forefront of biotech, medical devices and healthcare services. It will list on the JSE, and investors will access it in South African Rand.
Key Dates:
| | |
| --- | --- |
| IPO opens | 09:00am, 4 May 2022 |
| IPO closes (SatrixNOW) | 12:00am (midnight), 16 May 2022 |
| IPO closes | 12:00pm (midday), 17 May 2022 |
| JSE listing date | 26 May 2022 |
| JSE listing code | STXHLT |
| Targeted annual TER | 0.60% |
| Risk profile | Aggressive |
About the STOXX Global Breakthrough Healthcare Index
The STOXX Global Breakthrough Healthcare Index is more diversified than the Nasdaq Biotech, S&P 500 Healthcare or MSCI World Healthcare indices. In part, the broader breakthrough theme serves to counter the market perception that healthcare is purely a defensive play.
Companies in the index hail from varied geographies and healthcare sub-sectors, bringing valuable offshore diversification to local investor portfolios seeking exposure to the healthcare sector. Each constituent in the index is subject to ESG screening criteria – the sustainability of a given business is key when investing in long-term megatrends like aging populations.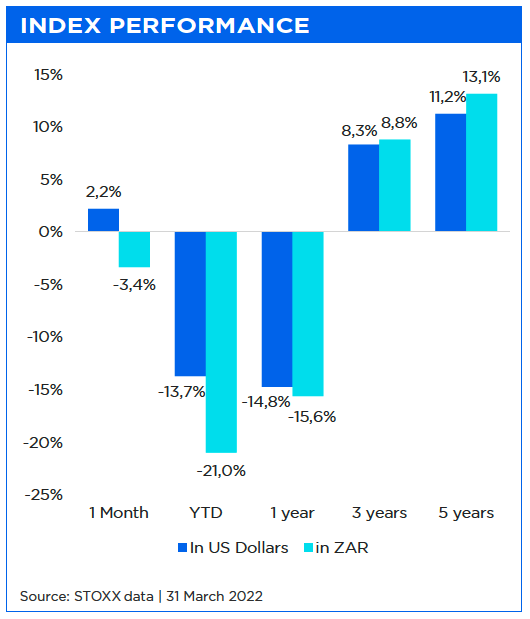 Who should invest in this ETF?
This ETF is suitable for investors with a long-term investment horizon, as well as those looking to express an investment view on the global healthcare sector within a broader portfolio. Investors should expect and be able to withstand equity-like volatility.

How to invest in this ETF?
Existing Investor: You can access the Satrix Healthcare Innovation Feeder ETF via your SatrixNOW account, which has no minimum investment amount.
New Investor: If you don't yet have a SatrixNOW account, you can register here.
The IPO will also be available via other investment platforms and personal stockbroking accounts.

Download the IPO Information Sheet.
Please note that the IPO closing date is midnight, 16 May for SatrixNOW clients, and midday 17 May via other platforms and stockbroking accounts.

Satrix Managers (RF) (Pty) Ltd (Satrix) a registered and approved Manager in Collective Investment Schemes in Securities. Collective investment schemes are generally medium- to long-term investments. Unit Trusts and ETFs the investor essentially owns a "proportionate share" (in proportion to the participatory interest held in the fund) of the underlying investments held by the fund. With Unit Trusts, the investor holds participatory units issued by the fund while in the case of an ETF, the participatory interest, while issued by the fund, comprises a listed security traded on the stock exchange. ETFs are index tracking funds, registered as a Collective Investment and can be traded by any stockbroker on the stock exchange or via Investment Plans and online trading platforms. ETFs may incur additional costs due to it being listed on the JSE. Past performance is not necessarily a guide to future performance and the value of investments / units may go up or down. A schedule of fees and charges, and maximum commissions are available on the Minimum Disclosure Document or upon request from the Manager. Collective investments are traded at ruling prices. A feeder fund is a portfolio that invests in a single portfolio of a collective investment scheme, which levies its own charges and which could result in a higher fee structure for the feeder fund. International investments or investments in foreign securities could be accompanied by additional risks such as potential constraints on liquidity and repatriation of funds, macroeconomic risk, political risk, foreign exchange risk, tax risk, settlement risk as well as potential limitations on the availability of market information. The manager has the right to close the portfolio to new investors in order to manager it more efficiently in accordance with its mandate.