NEW GLOBAL EXCHANGE TRADED FUNDS
Satrix listed two ESG-focused ETFs on the JSE on 10 September 2020, offering global equity exposure in developed or emerging markets.
Developed markets: Satrix MSCI World ESG Enhanced
Emerging markets: Satrix MSCI Emerging Markets ESG Enhanced
Read more about Sustainable investing
THE SATRIX MSCI WORLD ESG ENHANCED ETF
The Satrix MSCI World ESG Enhanced ETF tracks the MSCI World ESG Enhanced Focus Index, which is designed to maximise exposure to positive environmental, social and governance (ESG) metrics. Investors who are evaluating the need for developed market equity, combined with a desire to invest responsibly, will find this ETF ensures they get the best of both.
Investors can access this global ETF in South African Rand. Satrix will replicate the index by investing in the iShares MSCI World ESG Enhanced UCITS ETF. This is a total return ETF, which means all dividends are automatically reinvested.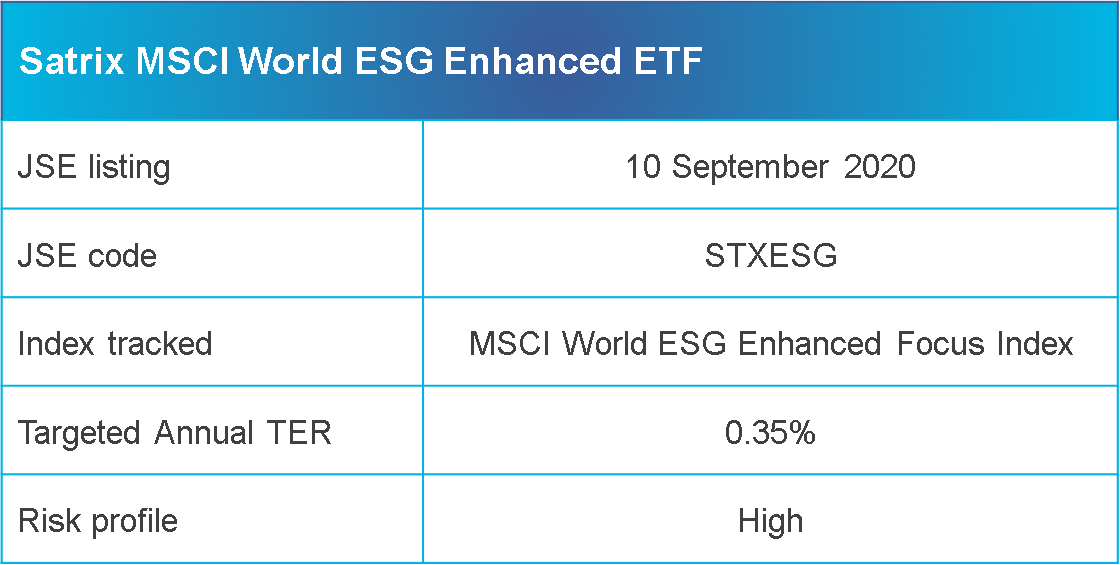 ABOUT THE INDEX
The MSCI World ESG Enhanced Focus Index is based on the MSCI World Index, its parent index, and includes large and mid-cap securities across 23 developed market (DM) countries. The index is designed to maximize exposure to positive environmental, social and governance (ESG) factors while reducing the carbon equivalent exposure to carbon dioxide (CO2) and other greenhouse gases (GHG) as well as their exposure to potential emissions risk of fossil fuel reserves by thirty percent (30%). The index also aims to maintain risk and return characteristics similar to those of its underlying market capitalization weighted index (the MSCI World Index).
TOP 10 HOLDINGS
INDEX PERFORMANCE
The performance is shown in US dollars and South African rands. When investing South African rands to access exposure to a US dollar based index, investors are also exposed to exchange rate risk. This means that your performance will be positively affected if the rand weakens against the dollar, and negatively affected if the rand strengthens.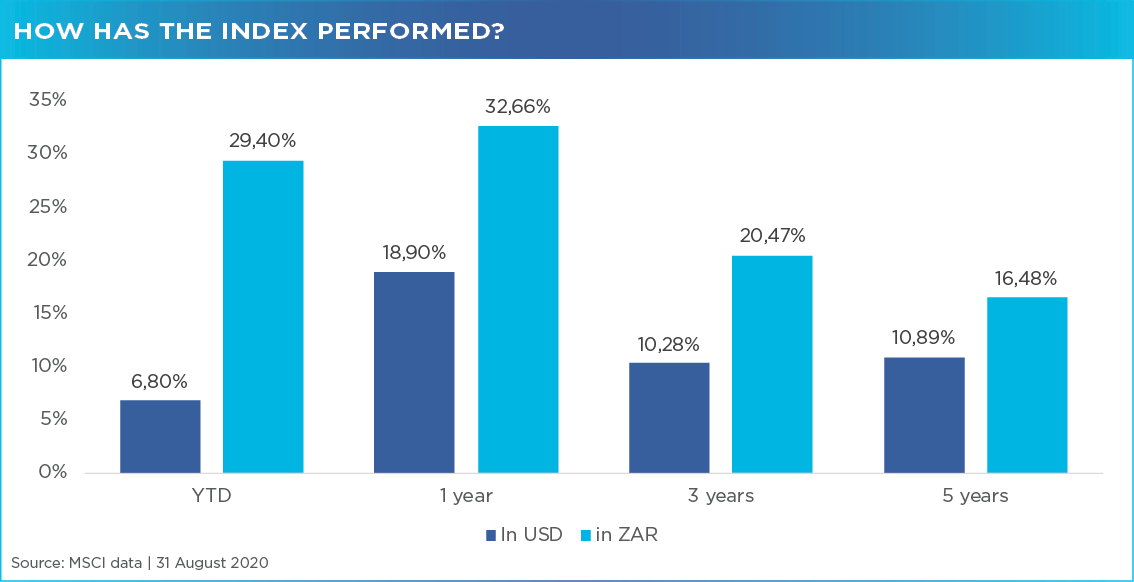 HOW TO ACCESS
Investors can access the Satrix MSCI World ESG Enhanced ETF via SatrixNOW.co.za, which has no minimum investment amount. Simply login to your account and select "Invest Now". You can invest via your Standard account or Tax Free Savings Account.
If you don't have an account yet you can register here.
The ETF is also available via other investment platforms and personal stockbroking accounts.
ADDITIONAL DOCUMENTS
POSTED : 9 SEPTEMBER 2020